HERE YE, HEAR YE
Awards this site has Won for 2001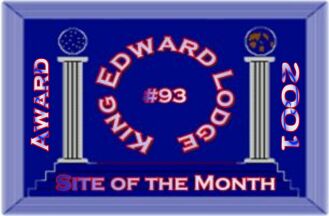 Site of the Month for April 2001
"You cannot say enough about the information provided on you site, so it's time to share it with all!"
Greg Balla Webmaster - King Edward Lodge #93
This distinction was held for the months; April, May, June, July, August, September, October, November and December 2001. Thanks Greg!
This page takes a couple of minutes to load. If everything does not load , click refresh on your browser

award given on Jan 6th,2001
by Terry, Starlight Adoptions

"WML Award 2001"
Making Good Men Better

Given on 3/15/2001
by The Grand Lodge of Arkansas

Given on 3/19/2001
by Max Billington Keller Lodge #1084


Given on 3/31/2001
by Highland Park Chapter #190
Web Master Scott Durham

Given by the Victoria British Columbia Web Site
on 3/15/2001

Given by Mark Stilwell on 3/15/2001

given 3/19/2001
by Award manager internetloge.de

given 3/20/2001
by Greg Balla Webmaster - King Edward Lodge #93


award given on 3/20/2001
by The Caledonian Railway Lodge

given by Rebecca at
Love and Honesty.com - 3/25/2001
You are cordially Invited to Visit The Great Sites which have bestowed these awards. We are deeply honored by being awarded these tributes of recognition.
Apply for our new Award
Please Support the Masonic Youth Organizations in Your Area. These young people are our future leaders.
De Molay International
International Order of Job's Daughters
International Order of the Rainbow for Girls
NO PART OF THIS SITE MAY BE COPIED OR REPRODUCED, IN WHOLE OR IN PART WITHOUT THE EXPRESS WRITTEN APPROVAL OF THE WEBMASTER. © COPYRIGHT 1999 - 2008 C.I.Case...ALL RIGHTS RESERVED.