updated June 2002
---
A lot has happened in Peninsula Chapter since last update. First of all we had our Installation on Saturday 9th June, this Installation was a different from all other Installations we had.
At last Bi-Annual sessions it was decided that Chapters could hold Open Installations, this has been very well received by the majority of Chapters.
So it was decided that Peninsula Chapter would have our installation an Open Installation, this was a very historic day for Peninsula, then we were told we had to use the new ritual.
As there is not much difference to the old one we went a head, then the new instructions were read this mente a lot of working out with placement of furniture, and with the Worthy District Grand Matron & Patron present we had to be on our toes. To cut a long story short the day went Great, no problems.
The beginning of June the Worthy Matron & Patron Sis Graham & Bro Wrenn presented a cheque for $650.00 to
the Redcliffe Hospital, to purche a new Wheel Chair along with a reconditioned wheel Chair.
Our newly Installed Worthy Matron Sis Marjory Lock & Worthy Patron Bro Cyril Turner have a whole new year mapped out for us so I think we will have lots of fun and raise some money for Charity.
Our first social will be a Hot Pot 28th July at Sis Joan Roberts House for those that live in Brisbane area and would like to attend contact Robert Read 07 3888 4998.
For those for overseas a little about Brisbane. Brisbane is the capital of Queensland, the climate is sub tropical an is only an hours drive north or south to some of the best beaches in the World.
From Brisbane you can branch out to the tropical north with it's rain forest's & Tropic Islands or West to Australia's wonderful Out Back where the Dinosaurs roamed.
So for all you Overseas visitors we say come and visit Queensland for the wonderful experiences but contact webmaster and visit some of out Chapters where you will be made very welcome.
Please Rember that from February 2002 Peninsula Chapter meets at SCARBOROUGH MASONIC CENTRE
SEAVIEW AVENUE SCARBOROUGH at 2.00pm
---
Photo's from Installation


Worthy matron Sis Locke & Worthy Patron Bro Turner
Cutting the cake
Worthy Matron Sis Locke and her family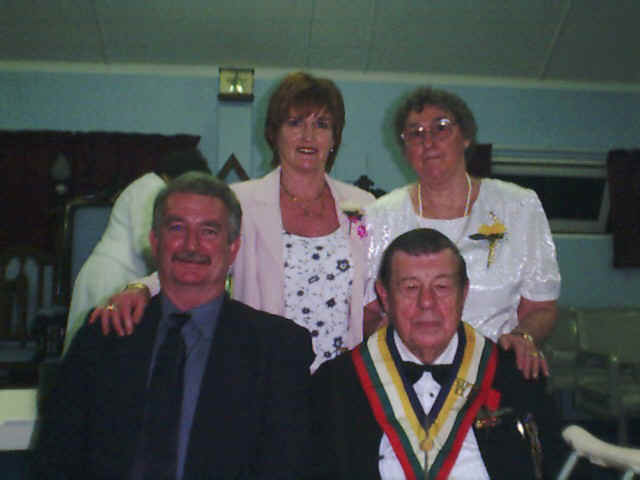 Worthy Patron Bro Cyril Turner and Family
---
This page managed by Robert Read Webmaster
all News and comments to above please.
---