My name is Wes Henry, a long-time resident of Hamblen County. I am the son of Mike and Melinda Henry, brother to Kevin Henry, and husband to Beth Turnmire Henry. I have three wonderful children who are the greatest accomplishment of my life. They are currently enrolled in the Hamblen County School System. My wife's family members are also long-time residents of Hamblen County: John and Brenda Lowry, John and Amber Lowry, Roger and Joyce Turnmire, and Travis Turnmire.
I am a graduate of Morristown-Hamblen High School East. I attended Walters State Community College before joining the United States Navy. In the years after my military service, I began my career in the heavy construction industry. I began as an equipment operator where I gained hands on experience in the field. I feel knowing your job from the ground up is very important in regards to management and overall knowledge of any job.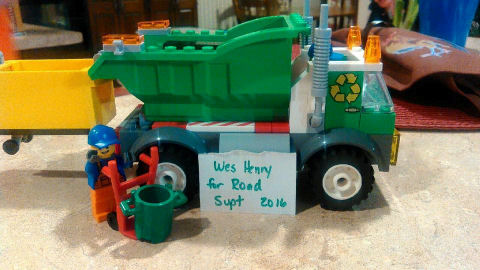 I currently work as a Construction Superintendent where I have also gained business and managerial experience in commercial, road, and highway construction. Over the course of 21 years I have worked on projects that vary in both scale and complexity. These projects include construction of subdivisions, city streets, county roads, state highways, commercial development, underground utilities and drainage, conservation and erosion control, and mining. I have worked on job sites in several states including North Carolina, Georgia, Florida, Kentucky, Virginia, and Tennessee.
If elected, I will run the office in an efficient, effective, and professional manner. It will be in a way that the citizens of Hamblen County can be proud of. I will be available to the public to hear and answer any questions or concerns of the community, and will do so in a timely manner. I will bring the knowledge and business model of the heavy construction industry to the Hamblen County Highway Department.
I would like the opportunity to make Hamblen County a better place for all of us to live, work, and play. I hope this introduction of myself and my intentions encourages you to give me your vote and support in the March 1st Primary Election. Thank you.
---
"YOUR VOTE WILL BE GREATLY APPRECIATED"
If you have additional questions, please private message through Facebook under Vote for Wes Henry for Hamblen County Road Superintendent or email weshenry2016@gmail.com. Thank you for your time and attention.
---