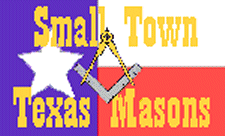 The Battle of Gonzales
The Texas Shot Heard Around The World

The Battle Of Goliad
After Their Surrender Every Man was Massacred

The Grass War and Siege Of Bexar
The Battle For San Antonio

The Siege Of Bexar
From A Soldier Who Was There, Joseph Lopez

Fall Of The Alamo
Santa Anna Ordered Death To The Defenders

The Battle At San Jacinto
Texas Wins It's Freedom From Mexico

Houston Reports After The Battle
Houston's Letter To President Burnett

A Mexican's Side Of San Jacinto
Col. Pedro Delgado Of Sanra Anna's Staff

The Texas Masonic Oak
The Birth Of Texas Masonry

Defenders Of The Alamo
The Men Who Gave Their Lives For Texas

The Masonic Heros Of Texas
The Masons Who Fought And Worked For Texas

Brother Sam Houston Is Gone
The Obituary Of A Texas Hero

Houston Area Masonic Lodges
The Names, Addresses and Telephone Numbers

Beginings Of The Texas Masonry
A Short History Of Texas Masonry

The Grand Lodge Of The Republic Texas
After Independence Texas Forms A Grand Lodge

Texas Masonic Lodge's Web Sites Locator
Find Any Texas Lodge By The City Name





No ę Copyright.
"Corky" .
Free To Use.
---
All material in this site may be used
to educate everyone, Masons and
non-Masons alike about Freemasonry

---