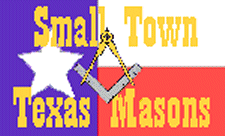 Web Site Accessories
Page IV
Background Music
These songs are a little slow to load. A song is
not loaded until it's SQUARE is hightlighted Click on the TRIANGLE to start music and the SQUARE to stop.
To copy, right click on the console and
choose SAVE AS from the drop down menu.

Back To The Web Page Building Page

No ę Copyright.
"Corky" .
Free To Use.
---
All material in this site may be used
to educate everyone, Masons and
non-Masons alike about Freemasonry

---
Page Crafted By Corky


The Pine Island Webwright