---
OFFICERS
Bill Weisert
Worshipful Master

Bill Clark
Senior Warden

Myles Hart
Junior Warden

Dominic Paddock
Senior Deacon

Gary Lamothe
Junior Deacon

Frank LaPlante
Treasurer

-vacant-
Assoc. Treasurer

Dick Miller
Secretary

Paul Littlehale
Senior Steward

Ralph Lindquist
Junior Steward

Skip Saunders
Chaplain

Gary Milton
Marshal

-vacant-
Tyler
---
STATED MEETINGS
1st Saturday
of each month;
Specials on 3rd
Saturday of the month.
7: 30pm
Contact us
---
Bay View
Lodge Members,
please send us your e-mail address
E-MAIL
the Webmaster
This website does not speak for The Grand Lodge of any state nor Freemasonry in general.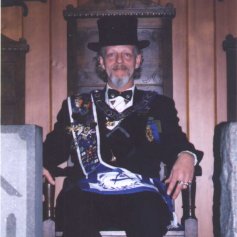 the Worshipful Master
About Bay View Lodge
Bay View Lodge was formed over 100 years ago, receiving its charter from the Grand Lodge of Connecticut in 1879.The lodge was originally located near the shore of Long Island Sound in Niantic, Ct. James R. White was the first master of the lodge; Asa E.S. Bush was Bay View's first Senior Warden; and N.L. Smith was the first Junior Warden.
In 1972, a new temple was built for the lodge on Society Road, a few miles north of its original location. The new building was designed by Roland Wright, a brother of Bay View Lodge, and was built largely by brothers of Bay View.
Bay View Masonic Temple is now home to three lodges of masons, two Order of the Eastern Star chapters, and was formerly home to a Grotto lodge.



MASONIC TEACHINGS
Man's first duty is to love and revere God, implore His aid in all laudable undertakings, and seek His guidance through prayer, embrace and practice the tenets of religion, extend charity and sympathy to all mankind, shield and support the widow and orphan, defend virtue, respect the aged, honor the bonds of friendship, protect the helpless, lift up the oppressed, comfort the downcast, restore dignity to the rejected, respect the laws of government, promote morality, and add to the common stock of knowledge and understanding.
E. Dean Osborn, PGM
Grand Lodge of Kansas A.F. & A.M.



This website does not speak for any Grand Lodge nor Freemasonry in general.