Scottish Rite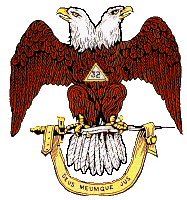 The Scottish Rite is one of the two branches of Freemasonry in which a Master Mason may proceed after he has completed the three degrees of Symbolic or Blue Lodge Masonry. The other branch is known as the York Rite, consisting of Royal Arch Masons, Royal and Select Masters, and Knights Templar. The Scottish Rite includes the degrees from the 4° to the 32°.
The use of the word "Scottish" has led many Masons to believe that the Rite originated in Scotland. There was also a false belief which persisted for many years, that a man had to go to Scotland to receive the 33° Neither of these statements is true.
Actually, the first reference to the Rite appears in old French records where the word "Ecossais," meaning Scottish, is found. During the latter part of the 17th Century, when the British Isles were torn by strife, many Scots fled to France and resumed their Masonic interests is that country. It is believed that this influence contributed to the use of the word "Scottish."
The Scottish Rite of Freemasonry is an extension of the first three degrees of Craft Freemasonry. Here the member witnesses degrees from the 4° through the 32°. Each degree provides a moral lesson that can help the member be a better person. The 33° is conferred annually upon a select number of 32° Scottish Rite Masons who have contributed outstanding service to Freemasonry or Scottish Rite or who have exemplified in their daily lives, the true meaning of the Brotherhood of Man under the Fatherhood of God. A recipient must be at least 33 years of age and may not apply for the degree. Back
The Prince Hall Fraternity embraces all the high degrees of the York Rite. In these higher degrees the Capitular Rite is worked in the Chapters of the Royal Arch, the Cryptic Rite in Councils of Royal and Select Masters, and the Chivalric Rite in the Commandery of Knights Templar.

The history of tracing the development of these three branches within the Prince Hall family is made difficult because of the lack of early records.
The Royal Arch and Templar Degrees
One Masonic historian (Grimshaw, 1903) states that a group of black masons who had been arched abroad, received a Royal Arch charter from Prov. G.M. George Harrison (A.) in 1776. The charter was not used until 1820 when Union Chapter was established in Philadelphia were Caesar Thomas was elected High Priest.
Grimshaw also states that the Duke of Sussex, Grand Master of England gave a deputation to Passey Benjamin, a West Indian black mason, to establish commanderies in the West Indies and the United States. Benjamin organized St. George Commandery in Philadelphia also in 1820. St George's membership was composed of black masons who had received their Templar degrees in Europe and the West Indies. While this information has not been verified, it is known that England had Templar bodies (independent of craft lodges) in Jamaica (1794), Bermuda (1802), Haiti (1811), and St. Kitts (1812).
In 1844, three Philadelphia Royal Arch Chapters, Union (1820), Jerusalem (1826) and Friendship (1844), met and organized the First African Independent Grand Chapter. The minutes indicate that Jacob Jenkins was elected Grand High Priest. In the same year and same city, the First African Grand Encampment was organized. After these two grand bodies were organized, the capitular and chivalric degrees spread to every Prince Hall jurisdiction in the United States.
The Royal and Select Master Degrees
The Cryptic degrees were slower to take root in the Prince Hall Fraternity. It was not until August 14, 1916 that the Grand Chapter of Royal Arch Masons for Ohio, at its session at Dayton, sanctioned the establishment of Councils of Royal and Select Masters. Three Councils were authorized: Adoniram No. 1 in Cleveland, Zabud No. 2 in Toledo, and Herald No. 3 in Columbus. On August 13, 1917, a convention of delegates from these three councils organized a Grand Council at Cincinnati, and is body was incorporated under the laws of Ohio on December 21, 1920.
Councils were soon organized in Dayton, Oberlin, Boston, Zanesville, Chicago, Newark, Portsmouth, Indianapolis, Cincinnati, Pittsburgh and Springfield. Deputies were appointed for Pennsylvania, Indiana, Minnesota, Iowa, Illinois, New York, Rhode Island and Massachusetts. It wasn't until after the Great Depression of 1929 that Council spread to other Prince Hall jurisdictions.
This article was edited from A History of Freemasonry Among Negroes in America by Harry E. Davis, 1946
The Ancient Egyptian Arabic Order Nobles Mystic Shrine of North and South America and Its Jurisdictions, Inc. has a long and colorful history. The order was established as an Imperial Council of Prince Hall Shriners on June 3, 1893, in Chicago, Illinois, by 13 Prince Hall Masons under the leadership of John George Jones. They met in the Apollo Hall on State Street where Palestine Temple was organized. On June l0, 1893, Jones and his associates organized the Imperial Grand Council of Prince Hall Shriners. Jones, who was an attorney, immediately went about organizing Prince Hall Shrine Temples in Los Angeles, California, Washington D.C., Jacksonville, Florida, Indianapolis, Indiana, Baltimore, Maryland, Kansas City and St. Louis, Missouri, New York City, New York, Cleveland, Ohio, Pittsburgh, Pennsylvania, Providence, Rhode Island, Alexandria and Richmond, Virginia. In September of 1889, Isaac L.W. Holland, the Illustrious Potentate of Pyramid Temple in Philadelphia, sent out a

call

to members of Prince Hall Shrine Temples within the nation to meet with him for the purpose of reorganizing the Imperial Grand Council. On December 12, 1900, a meeting was held in Philadelphia with officers and members attending from Temples in Philadelphia, Pittsburgh, and from Alexandria, Virginia, At this meeting the Imperial Council was reorganized and the order adopted a new name: Imperial Council of the Ancient Egyptian Arabic Order Nobles Mystic Shrine of North and South America and its Jurisdiction, Incorporated.

The first annual session of the newly organized Imperial Council was held on September 25, 1901, in Newark, New Jersey, it was here that a Constitution was formally adopted, establishing the fraternity as it is today, and designating the Imperial Council as a charitable, benevolent, fraternal. and social organization, dedicated to the welfare and extension of Prince Hall Freemasonry, and decreeing that membership in the order be confined to regular freemasons who were members of lodges descended from African Lodge #459 (African Lodge #459 established on September 29, 1784, was formally African Lodge #l formed on July 3, 1776; Massachusetts).

The Worldwide Fraternal Shrine Family has a membership of approximately 35,000 in some 227 Shrine Temples and 200 Courts, its women's auxiliary, the Daughters of Isis, throughout the Continental United States, Canada, Germany, Italy, England, Spain, Hawaii, Japan, Korea, Guam, Thailand, Panama, and the Bahamas. The Ancient Egyptian Arabic Order Nobles of the Mystic Shrine is primarily a benevolent, charitable and fraternal organization, Its membership is dedicated to the principle of fostering civic, economic and educational development programs throughout the world.

The Fraternal Order has fostered the following programs:

Annual grants of thousands of dollars to the Prince Hall Shrine Health and Medical Research Foundation.

Annual grants to several institutions of higher learning and to hospitals throughout the United States for Medical research.

A National Scholarship Grand Program for young ladies between the ages of 17-24 to attend college and universities of their choice,

Annual Educational Grants for economically deprived youths.

A program of financial aid to youth in their fight against drugs, crimes, and delinquency.

Annual grants to the N.A.A.C.P, the Legal Defense Fund, and the United Negro College Fund.

Support summer camps for youth,

Voter education and registration drives.

Establishment of and maintaining dialogue with White House officials, Congress men, and national leaders on various issues affecting African-Americans and others

Back
The Demolay is a Masonic-sponsored international fraternity dedicated to preparing young men to lead successful, happy, and productive lives. Basing its approach on timeless principles and practical, hands-on experience, DeMolay opens doors for young men aged 12 to 21 by developing civic awareness, personal responsibility and leadership skills so vitally needed in society today. DeMolay combines this serious mission with a fun approach that builds important bonds of friendship among members in more than 1,000 chapters worldwide. Demolay was founded on March 18, 1919 by Frank S. Land, a mason in Kansas City , Missouri who wanted to help a boy whose father had passed on. Now over 80 years later, his work is still helping young men worldwide.
Job's Daughters
Job's Daughters has a rich heritage and tradition. The group was founded in 1920 to provide an opportunity for young women to work together, to learn about themselves and to help others. Job's Daughters is open to girls ages 11 to 20 who have a Masonic Heritage. We do not follow any specific religion, but do require that our members have a belief in God. For over 75 years, Job's Daughters has been actively promoting friendship and service. The organization was founded by Mrs. Ethel T. Wead Mick in Omaha , Nebraska . The group takes its name from the Book of Job, and in particular to a reference in the 42nd Chapter that says, "And in all the land were no women found so fair as the Daughters of Job."
The International Order of the Rainbow for Girls is a junior organization for girls BETWEEN the ages of 11 and 20, from Masonic, Eastern Star, Amaranth homes, and the friends of members of Rainbow girls. At the age of 20, or upon marriage, whichever occurs first, girls who are members in good standing are eligible for majority membership. A girl must be sponsored by two other girls who are either active members in good standing or a majority member, and at least one adult whom must be a member in good standing of either the Masonic Lodge, Order of the Eastern Star, or Order of the Amaranth.
The Reverend W. Mark Sexton had been asked to make an address before South McAlester Chapter #149. As the DeMolay had come under his close study and observation during his Masonic activities', he became more and more conscious of the fact that an Order for girls setting forth some of the truths of Masonry would be necessary. He asked the regular officers of South McAlester Chapter No. 148, O.E.S., to exemplify the work. The first class of girls that was initiated into the Order consisted of a class of 171 girls, on April 6, 1922 , in the auditorium of the Scottish Rite Temple, McAlester, Oklahoma.
Today Rainbow Assembly can be found in many jurisdictions around the world, including the United States, Australia, Brazil, The Philippines, Germany, Canada, and Japan, to name only a few. Nearly all states in the United States have Rainbow.
The Order of the Eastern Star is the largest social, charitable, and Fraternal Organization to which both women and men can belong. Membership in the Order of the Eastern Star is open to women 18 years of age or older, as well as Master Masons in good standings in their Lodges.

A candidate may make their application through a Masonic Relationship or by being sponsored by a member of the Order of the Eastern Star who is a Master Mason. A belief in a Supreme Being is also required.
The founder of OES was Dr. Robert Morris, a lawyer and educator from Boston, Mass. who was a Master Mason and Past Grand Master of Kentucky. Dr. Morris intended his creation to become a female branch of Freemasonry, but he failed to overcome the great opposition this idea engendered. After his first published ritual in 1849-50, he became associated with Robert Macoy who wrote and published a ritual based on Morris' in 1867. The First Grand Chapter was organized in Michigan in the same year. (there is evidence for an organization of the same name founded variously in 1788 or 1793, but this group was defunct by 1867). subordinate (local) chapters operate under charter from state level grand chapters which are responsible to the General Grand Chapter at the International Western Star Temple in Washington, D.C.
On August 10, 1874, Thornton Andrew Jackson received the several degrees of the Rite of Adoption of the Order of Eastern Star from Bro. C.B. Case, a Deputy and agent of Illustrious Robert Macoy 33, Supreme Patron of the Rite of Adoption of the World. in addition, Thornton Jackson also received a letter from Bro. C.B. Case granting him the authority to establish chapters of the Eastern Star among eligible Black Women. In obedience to the authority granted by William Myers, Grand Master, Union Grand Lodge, Jurisdiction of the District of Columbia, Bro. Jackson established the first Eastern Star Chapter among black women in the United States.
On December 1, 1874, Queen Esther Chapter No. 1, Order of the Eastern Star, was established at 708 - O Street, N.W., Wash. D.C. in the home of Mrs. Georgiana Thomas. The First Worthy matron was sister Martha Welch and the first Worthy patron was Bro. Thornton Jackson. In December 1874, Grand master William Myers and Deputy Grand master William A. Tallaferro, Union Grand Lodge, Jurisdiction of the District of Columbia, were invited to receive the androgynous degrees. They both accepted, thus further cementing the ties that bind the Masonic Family together.
The Order of the Eastern Star is not a religion, even though it is religious in character. It does not pretend to take the place of a religion, or serve as a substitute for the religious beliefs of its members. Members do come from all denominations.
The primary goal of the O.E.S is to provide an organization where women and men with high moral and social character, can join together and contribute time, energy and wisdom to our Order with Charity, Truth and Loving-kindness for the good of all mankind throughout the world. Back