The History of Unity Lodge No. 36, Part 2
There is not much for the casual observer to see standing on the sidewalk in front of the cornerstone. There are no historical markers or signs pointing to anything noteworthy concerning the former lodge. Red paint, plastic, and shielded copper wire --- proud icons of the modern day --- all seem to want to cover and disguise the fired brick, carved wood, and elaborate iron decoration of years past that lies quietly underneath.
Lingering a few moments, it isn't difficult to let the imagination wander back through the years. To see the asphalt streets give way to dusty Georgia clay and all trappings of the 21st century melt away to a time of horse and buggy; gaslight and cobblestone.
Blinking against the sunlight of an early afternoon, you see the shadows of things gone by take form and merge into images that you recognize from pictures of the past. With the eyes of imagination, you can almost peer into those shop windows and see those who have passed this way before, reflected only now in your minds eye.
Of men standing where you might be standing now, quietly discussing topics of the day amongst small groups scattered here and there along the sidewalk in front of the newly laid cornerstone, awaiting the time when their lodge meeting will begin.
They are men from every walk of society: Doctors, farmers, lawyers, and merchants who come to meet with their brethren on lodge night. Young and old alike, they come from their farms and from their shops and from their homes to fellowship together as Freemasons:
"To live their lives with love and care—
To act on the Level; to live by the Square."
Turning left, facing the cornerstone and heading up the sidewalk to the alley street that runs beside the old lodge, an iron staircase appears at the end of the sidewalk and disappears up and around the corner.
Looking at it now, there is not much left. Rusted and twisted in places and missing a few important steps as it ascends, the staircase is not safe for the casual stroller or the curious bystander.
Yet, with the minds eye, it is easy to see those brethren of old Jefferson easily making their way up those freshly painted, black wrought iron stairs—still talking and joking quietly, some staying behind to assist the elder members who must rely on their canes to carry their weight up the flight and into the lodge meeting room.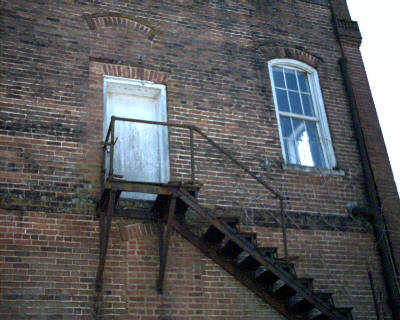 Slowly they come, streaming up by twos and threes. They enter in through the tall wooden door and step into the reception room where hats, coats, and jackets are removed and hung on ornate wooden pegs.
Bystanders on the street below looking up know that soon the tall wooden door will be closed, barring all outsiders from intruding upon 'those Masons' meeting inside.