Tadmor Shrine Divan List
- PAGE 4
Potentate | Chief Rabban | Assistant Rabban | High Priest and Prophet | Oriental Guide | Recorder | Treasurer | 1st Ceremonial Master | 2nd Ceremonial Master | Marshal | Captain of the Guard | Inner Guard | Outer Guard | Chief Aid Emeritus | Chaplain | Potentate's Personal Aides
Outer Guard : ROBERT ROUND Lady: GAYLE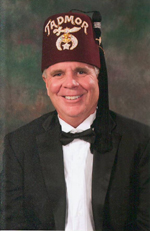 Bob and his Lady Gayle have been married 7 years and live in Uniontown. He graduated from Springfield High School and attended the University of Akron . Bob has two children, two step-children and one grandchild.
He has worked with his family at American Patio Rooms for 40 years.
Bob is a member of Coventry-Akron #83 and was raised a Master Mason in January 2011.

He joined Tadmor Shrine in November of 2011.

He is a member of Temple Guard and Director Staff.

Bob is also a member of Widows Sons.
CHAPLAIN: PAUL NEWBURN JR P.P. LADY CYNDIA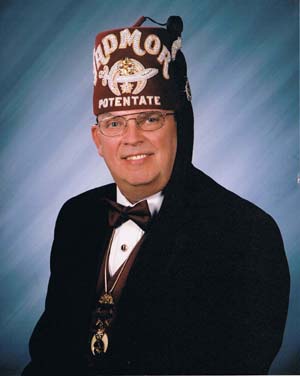 Paul was raised as a Master Mason in the Leetonia Lodge, Leetonia , Ohio . After moving to Alliance he transferred to Homeworth Lodge. He is also a member of Conrad Lodge in Alliance . Paul is a member of the Valley of Canton Scottish Rite , Cuyahoga Falls Chapter of the York Rite, Commandry and Council. Paul served as Potentate in 2008 at Tadmor.
Paul is a member and Past President of Alliance Shrine club, Alliance Flag Unit and Alliance Go Jo unit. Paul is also a member of the Legion of Honor and served in the US Army. He was highly decorated in Viet Nam . Paul is also a member of Tadmor Temple guard. Paul retired from the Ohio State Highway Patrol after twenty-five years and currently is employed by Huntington bank. Paul is very active in the community with United Way , Life member of the VFW and DAV, member of the American Legion, Knox Twp Sportsman club. Paul is married to Cyndia and lives in Alliance . They have three sons and daughter-in-laws, and three wonderful grandsons. Paul and Cyndia enjoy camping, golfing, fishing and travel, Paul is also an avid hunter and enjoys trap shooting
Chief Aid Emeritus : Henry Criss Lady: Billie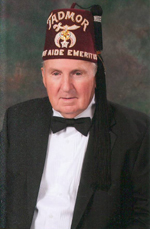 Henry has been a Shriner since December of 1982. Henry and his lady Billie, live in the Akron area. They have three sons, Jerry, John and Illustrious Sir Jimmy Criss (2004 & 2007).
Henry is retired from Goodyear and Loral with 36 years of service. He also has a landscaping service for 38 years. He belongs to Stow Lodge #768, Scottish Rite, Cuyahoga Falls Shrine Club, Directors Staff and Temple Guard.
He was Chief Aide for many years and was installed as Chief Aide Emeritus during his son, Ill. Sir Jimmy Criss' term in 2004. Henry also services as Tadmor's Lounge Manager.
Latest news