Welcome To Henry A Greene Lodge #250 F&AM
Henry A Greene Master:: Worshipful Brother E. Dalton White, Jr.
Henry A Greene's meetings will be the 2nd Monday of every month.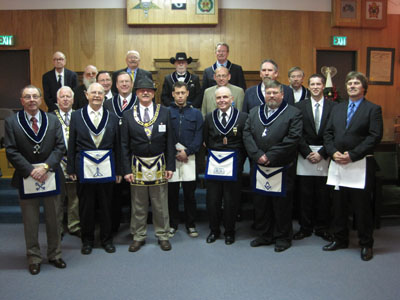 A Visit from RW Dean W. Heinemann, Deputy Grand Master Dec. 12,2011 Stated Meeting
We will meet the 4th Monday for Masonic Ritual Work & Officers Training


This meeting on January 23rd will be a second degree.
We're raising one brother to that degree.
Click here for the Masonic Tribune.
Want to know how to become a Mason?
Watch this video, it's a good start.
We go dark in July and August.
The next stated meeting is January 09, 2011 at 7:30.
The meeting will open on the 1st Degree for own New EA Mason.
Visit our Bethel #27 Job's Daughters calendar of events page directly through here.
Trestleboard Last Updated:
December 18, 2011

From the Secretary's Desk:
For those of you that haven't renewed your dues card for this year,
now it IS really the time to do so!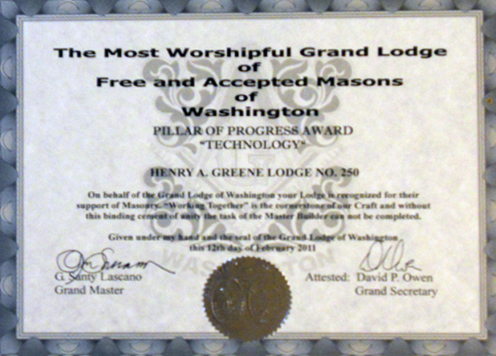 This award was presented to Henry A Greene on Feburary 14th, 2011.

Map Powered by Bing™