WELCOME TO THE 5th
NORTHEAST DISTRICT
OF THE GRAND LODGE A.F.&A.M. OF THE STATE OF ILLINOIS

The next District 5-NE Breakfast: SUNDAY 9 Jan 2011: 9 AM

Dates for the balance of 2011: 13 Mar 2011, 1 May 2011, 10 July 2011, and 11 Sep 2011

Freemasonry is an international fraternity of good men striving to become better men, men of character from every walk of life, all working together to build a better world.

All of the Masonic lodges working under the jurisdiction of the Fifth NE District in Illinois meet at the Jefferson Masonic Temple on Gale Street in Chicago. This internet site has been created in order to facilitate communication between the lodges and the DDGM in his capacity as a representative of our Grand Lodge. It is also designed to promote, facilitate and encourage cooperation among lodges and permit more efficient coordination of events where desired, minimizing overlap where possible, so that we may all find opportunities to visit one another more often.

Ground was broken for the Jefferson Masonic Temple in 1910 and the building has faithfully served Freemasonry and Freemasons both from the Chicago area and around the world for nearly one century. As a consequence of recent extensive interior and exterior remodeling and restoration we expect it will continue to do so for centuries to come.
---
L O C A T I O N
Jefferson Masonic Temple is situated at 5418 West Gale Street, Chicago, Illinois, situated about one-half block west of the Jefferson Park Blue Line Train and Bus Terminal. We are located 8 miles NW of Chicago's central business district and just blocks from the Central Avenue (5800 West and about 4800 North) Exit of Interstate 90.
| . DIRECTIONS AND MAPS . |
GPS Coordinates: N 41° 58.216', W 87° 45.824'
"A real Freemason is distinguished from the rest of Mankind by the uniform unrestricted rectitude of his conduct. Other men are honest in fear of punishment which the law might inflict; they are religious in expectation of being rewarded, or in dread of the devil in the next world.

A FREEMASON WOULD BE JUST IF THERE WERE NO LAWS,
HUMAN OR DIVINE EXCEPT THOSE
WRITTEN IN HIS HEART BY THE FINGER OF HIS CREATOR;

In every climate, under every system of religion, he is the same. He kneels before the universal throne of God in gratitude for the blessings he has received and humble solicitation for his future protection. HE VENERATES THE GOOD MEN OF ALL RELIGIONS. He gives no offense, because he does not choose to be offended. He contracts no debts which he is certain he cannot discharge, because he is honest upon principle." Farmer's Almanac, 1823 as quoted in 'Solomon's Builders' by Christopher Hodapp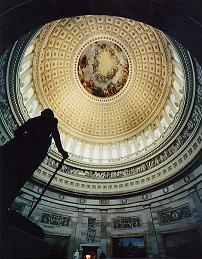 From the 'Architect of the Capitol'
"Let us, fellow citizens, unite with one heart and one mind. Let us restore to social intercourse that harmony and affection without which liberty and even life itself are but dreary things. " Thomas Jefferson - Inaugural Speech - 1801
H I S T O R I C . P U B L I C . I N F O R M A T I O N . C A M P A I G N
All are also invited to examine the web site associated with Illinois Masonry's historic public information campaign launched in the Spring of 2008: www.askamson.us
.
200th ANNIVERSARY OF ABRAHAM LINCOLN'S BIRTH - 12 FEB 2009
"We here highly resolve . . . that this nation, UNDER GOD, shall have a new birth of FREEDOM."
"Gentlemen, I have always entertained a profound respect for the Masonic fraternity and have long cherished a desire to become a member." Mr. Abraham Lincoln, c. 1860 CE
FOUNDING
MASONIC FATHERS
22 Feb 1732
Bro. George Washington
is born:
VISION
COURAGE
WISDOM
LIGHT
TRUTH
JUSTICE
TOLERANCE
CHARITY
FAITH