In 1860, Rob Morris ended his two year term as Grand Master of Kentucky, he had written the ritual and organized the Eastern Star in 1850. By then he was the best known Mason in America. He then took to organize the Masonic Conservators, composed of the leading Masons in each state and attempted to standardize the work of all Lodges with ritual which he supplied based on the Preston-Webb work. More than 3,000 Masons joined the enterprise but much of the membership condemned the movement bitterly. Morris utilized a coded book during ritual which violated Masonic Law in many jurisdictions. Though controversial and doomed to failure it caused many American Grand Lodges to reexamine their work and make changes. These changes were more often then not in-line with the Morris teachings.
Since the Grand Lodge of each state defines the way the ritual is taught to new masons in that state, there can be minor differences in different states. For instance, the first Masonic Lodges in the Republic of Texas were chartered by the Grand Lodge of Louisiana. After the Grand Lodge of Texas was formed, the ritual more followed the Grand Lodge of Tennessee and is now a little different from that of Louisiana.
For hundreds of years the ritual was taught by a brother teaching every new Mason by word of mouth to the new Brothers ear until the new Brother had it memorized. Anything in writing even in some kind of code was strictly forbidden and any offender would be expelled from the fraternity.
In later years the Grand Lodge of some state's decided to allow the ritual to be written in a type of code or cipher book so that the ritual could be standardized among Lodges in that state and where after some basic instruction a new Brother could use the code book as an aid to memorizing the ritual.
In a few states now, the Grand Lodge has allowed the ritual to be written in books, in plain English so that the ritual could be exactly the same in every Lodge in that state. a new Brother could learn the ritual without help from anyone.
The map below shows how each state's Grand Lodge stands on learning the ritual.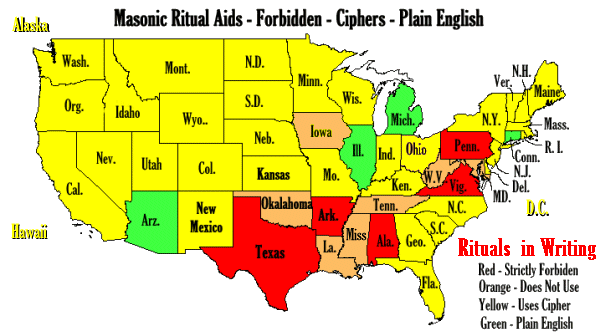 Click To Return To,

No Copyright © 2006 Free To Use.

All material in this site may be used to educate everyone, Masons and non-Masons alike about Freemasonry.

A very sincere effort has been made to avoid using any copyrighted material, without permission. If you discover something that is yours without giving you due credit, please let me know and due credit will be given or the item will be replaced.
Page Crafted By "Corky"


The Pine Island Webwright