To: Urdaneta Lodge No. 302, F&AM <urdfam@yahoo.com>
From: Marsha1963@aol.com
Subject: congratulations
Date: Mon, 8 Feb 1999 23:05:24 EST
I loved your website......your hard work has certainly paid off in the form of a webpage that is informative as well as eye-catching. It is my honor to present you with my "Outstanding Fraternal Site Award".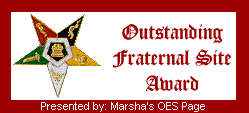 Once again, congratulations, and keep up the good work.

Sincerely,

Marsha Alldaffer
Marsha's OES Page
http://members.aol.com/marsha1963/oes.html
---