Order of Eastern Star
No: 130 Russiaville, Indiana 46979
Shirley Latz - WORTHY MATRON.
Dwight Singer - WORTHY PATRON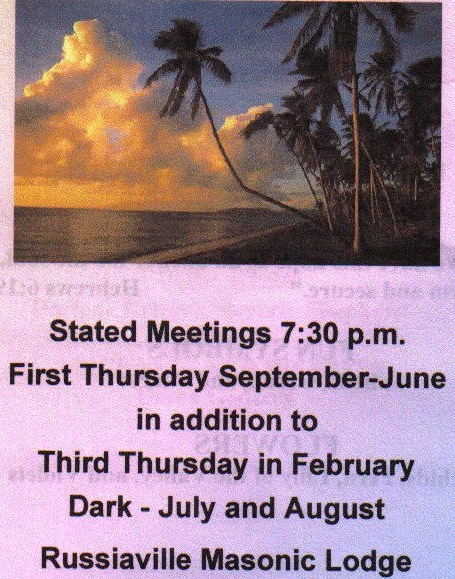 S T A T E D M E E T I N G S
First Thursday A T 7 : 3 0 P.M.
OUR EVENTS CALENDAR
Visit The General Grand Chapter O.E.S!
(New) Indiana Grand Chapter Order of the Eastern Star!
Events in his life of Dr. Rob Morris: Founder of the Order of the Eastern Star.
New London F.and A.M.
MASONIC LINKS
OTHER MASONIC BODIES
Visit The Indiana Masonic Home
" Int'l Order of DeMolay "
The Premier DeMolay Link to the World Wide Web
" Rainbow for Girls "
The Premier Rainbow for Girls Link to the World Wide Web
Operative WebMasons Guild
Get free hosting for your page on Mastermason Com
Grand Lodges of USA
ORGAN DONOR AWARENESS (KY)
"I've Heard the Name (FreeMason) What Does it Mean"
This page does not speak for any Chapter of the Eastern Star in particular nor Freemasonry in General.
Members of Indiana O.E.S. with E-mail Addresses welcome here!
Last updated Friday, September 08, 2006 16:35:36
Have you clicked on the bible today?
All work under the Copyright © of A Jewish Carpenter!