WELCOME To The


East Tennessee Masonic
CALENDAR OF EVENTS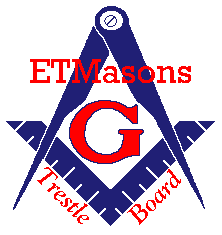 The East Tennessee Masonic Calendar Of Events web site was created to better serve the Masons,
Eastern Star, and Shriners throughout our community. It is my hope that this web site will make gaining
information concerning upcoming events more readily availiable for those that are not always capable
of attending the monthly meetings. If you have any suggestions, questions, or comments please feel
free to contact me by email at mastermason231@charter.net. Once again, thanks for visiting and I
hope that you will find the information listed here helpful.

C. Ellison - Morristown Lodge #231

To check for upcoming events for the Blue Lodge, O.E.S., Scottish Rite, York Rite, or Shriners
click on the appropriate month below.