The Order of DeMolay was founded in 1919, in Kansas City, Missouri, by a young man named Frank S. Land. Land was a community leader who, at the age of 28, already had a successful business career as a restaurateur behind him.
The main event that lead to the founding of the DeMolay movement was World War I. This was a time when the nation was caught up with a passion and desire to bring democracy to the world. When the United States joined in the fight against German power, every resource of men and materials was poured into the war effort. America suffered not only the loss of its men who had fallen in battle, but on the homefront as well. A positive response to this critical situation came about with the development of many charitable organizations. Frank S. Land was selected to act as the director of the Masonic Relief and Employment Bureau of the Scottish Rite of Freemasonry. This charity would come to help hundreds and hundreds of families.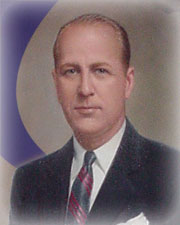 Louis Gordon Lower was born February 2, 1902. At the age of seventeen, Lower was first introduced to Frank S. Land. At that time, Louis was merely looking for a job to help out with family finances, but his demeanor piqued Land's interest. Land soon suggested that Lower could help him organize a young men's club—an organization to encourage and give direction to young men like Louis Lower.

Within a few weeks, the first unofficial meeting of the Order of DeMolay took place at the Scottish Rite Temple in Kansas City. Lower was the first DeMolay—his patent, issued by Mother Chapter of Kansas City, Missouri is dated October 5, 1919 and bears the signature of Frank S. Land himself. Louis was also the first member of the Legion of Honor.

By 1943, Louis, a well regarded city official, was the Director of the Municipal Auditorium in Kansas City, Missouri. On July 18, 1943, Louis Lower was murdered outside Union Station in Kansas City, Missouri. He had stopped to question a drunken security guard who was directing traffic at a crowded intersection in the city street. When Lower reached out to inspect the guard's badge, he was deliberately shot in the chest. He was forty-one years of age. He was survived by his wife Mrs. Dazie B. Lower, his sisters Fredonia Lower and Mrs. J.E. Wasson, and his brother Elmer W. Lower.

Louis Lower was a man of ideals. He kept them to himself until the hour of fulfillment arrived. Some were the dreams of boyhood when he was an active DeMolay, from which he never departed.

His death was a deep loss to DeMolay, especially Frank S. Land, who had regarded him as a son.


"He was a symbol to millions of young men of the ideals and teachings of our Order. He wore the mantle of this stewardship with dignity and grace. He never forgot the responsibility that was his. The ethics of leadership taught him in DeMolay flowered in countless fields of endeavor. He was a man of ideals ... He loved God, his home, and his country. He was a knight errant in his daily life although he would never admit it-but it was there."

Frank S. Land