On January 6th the residents of Inuvik, NT celebrated the return of the sun to this Arctic Community. Inuvik, being well north of the Arctic Circle is in 24 hour darkness from early December until early January each year. The townspeople have a festival celebrating the return of the sun as it briefly tops the southern horizon each January.

This year, on January 8th the community welcomed Masonic Light as well, with the Institution of FAR NORTH Lodge UD. The following evening two new Masons were brought to Light as the Lodge initiated the first two Masons to be made in the Canadian Arctic.

Rt. Wor. Bro. Rod Ponech the Senior Grand Warden of the Grand Lodge of Alberta (and the Northwest Territories) traveled north by air to preside over the ceremony of Institution of the new Lodge.
---

Left to right: VW Bro. Ken Bibby, Bro. Colum McCready, MW Bro. Tom Mickey, Bro. Chris M. Garven, Bro. Robin McConville, RW Bro. Howard R. Townsend, Bro. Mario Lemieux, Bro. Wally Wolfe, Bro. Al Allison, RW Bro. Rod Ponech.
---
His Institution team consisted of M.W. Bro Tom Mickey, a Past Grand Master of the Grand Lodge of Alaska, who flew from Whitehorse, Yukon; Rt. Wor Bro. Don Frizzell who flew in from Dawson City, Yukon; and V. Wor. Bro. Ken Bibby who arrived by air from Yellowknife NWT.
Although distances and costs of travel in the north are extreme, the brethren who gathered for this historic occasion displayed a true sense of commitment to the craft in both their attendance and participation.
FAR NORTH Lodge UD is the most northerly Lodge in Canada, the most northerly Lodge in North America, and the most northerly Lodge in the British Commonwealth. Prior to its formation, the brethren of Inuvik had traveled by air to Yellowknife Lodge, a return trip of over 3000 km, at a cost of nearly $1000, for each of their degrees.
The ceremony if Institution being the first meeting of FAR NORTH Lodge UD, and the Emergent meeting the following evening were the culmination of nearly a decade of informal Inuvik Masonic Club activities by the Masons in the Mackenzie Delta region. Congratulations must go to Rt. Wor. Bro. Howard Townsend, as the first Worshipful Master of the Lodge and to all of the officers who were appointed by the Grand Master. Special mention must also go to the new Lodge's Secretary-Treasurer Bro. Chris Garven who has been the spirit of this movement for the past number of years.

For those in attendance it was an emotional time as the local Masons saw their dream of a Lodge in this Arctic community come true and the visitors realized the tremendous accomplishment that a small group of dedicated Masons had achieved.

The future of FAR NORTH Lodge will not be an easy one. The weather and environment of the Arctic can be extreme and harsh. The population is transient. Crews and businesses arrive in the north for specific projects then move on to the next frontier. Many of the Lodge members are required to work and travel throughout the Western Arctic and cannot guarantee that they will be available on stated meeting nights. However, the spirit of Masonry is strong, and the dedication of the founding members is apparent as they begin construction of their own Lodge Hall.

The "Centennial" officers of the Grand Lodge of Alberta can look forward to the Lodge's Consecration, which should occur during the summer of 2004 when Inuvik will be experiencing 24 hours of daylight each day. Light will then really have come to the FAR NORTH, the land of the midnight sun.

Rt. Wor. Bro. Rod Ponech
Senior Grand Warden
Grand Lodge of Alberta (and the Northwest Territories)
---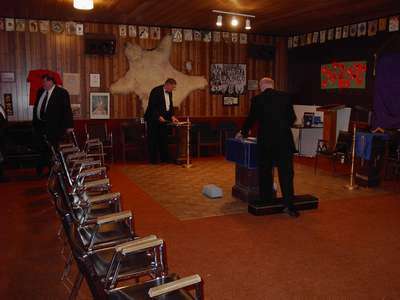 Getting the Lodge Room set up.
L to R : Bro. Robin McConville, RW Bro. Rod Ponech, VW Bro. Ken Bibby