34th Masonic District of N.C.
Burke County Caldwell County Catawba County
McDowell County Lincoln County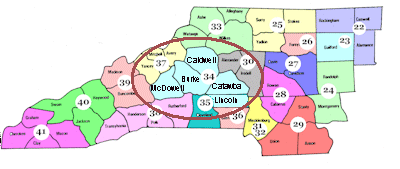 Lodge Locator - Grand Lodge of NC (locate a lodge in NC)
Districts were restructured beginning in 2001. The new 34th District now consists of
four Lodges from the 53rd, all of the 57th and two from the 59th Districts.
Effective December 22, 2004 Lincoln Lodge No. 137 and Denver Lodge No. 757
were moved into the 34th District.
Please Note: Updates to this site will be limited in the future due to the age of software and not being mobile device friendly.
For more information on lodges please click the link in the table below to view a specific lodge on the Our Lodge Page site
sponsored by the Grand lodge of North Carolina or click the OLP icon below for the 34th District
(Select a Lodge above for more information on that specific Lodge from the Grand Lodge OLP site )
If you would like more information or have questions about the 34th Masonic District of NC, feel free
to drop me an e-mail or send it by mail to:
Mack Sigmon, PGM
Copyright © 34th Masonic District Web Design 2004 All Rights Reserved.. This site was last updated 12/30/22, Webmaster, Mack Sigmon
The use of the addresses, phone numbers, names, or other information in this Website for purposes other than official Masonic Lodge or Masonic District business is strictly forbidden by the Grand Lodge of Ancient, Free & Accepted Masons of North Carolina. Any misuse may result in Masonic and/or civil action.