<![if !vml]>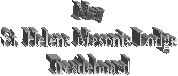 <![endif]>
<![if !vml]>

<![endif]>
From the Editor:
On the website there is a link for submissions for events please use this to have items added to the calendar. I would like to limit the items to events directly related to our organizations. If we have a website for a particular group such as blue lodge. it can have separate calendar for event that are afar. I Plan on adding a book review section on Masonic books, anyone that would like to write a book review let me know. A Poem a month and a Joke a month section as well. Over the summer I plan to revamp this trestle board into a PDF file. Please check it out the web address is: http://www.mastermason.com/St_helens_AFAM/index.htm
I will have copies at all AF&AM stated meeting and one posted on the bulletin board.
Fraternally,
Brother Michael Hamshar
<![if !vml]>

<![endif]>
St. Helens Masonic Lodge No. 32
May 3rd 6:30 Dinner & Fellowship 7:30 Stated Communication
May 31st Officers Meeting
From the Eastů
The district deputy's official visit will be on may 3rd at which time he will present Ernie Christianson with his fifty year pin. I hope as many of as possible will attend to wish Ernie well and to greet our district deputy Vic Tennyson.
A fundraiser is a priority as we will start drawing on our reserves soon. Jim Ziegler is still working on the WiFi tower, which if it comes through, will help. I also think that a fundraiser that actually gets some bodies in the building that are non-masons will raise our visibility in the community and aid our coffers.
see you at the meeting on the third.
Matthew
Koch
Or e-mail to MFK1326@comcast.net
Fraternally,
Matthew Koch, Worshipful Master
From the West...
Well the year is starting to close, only this month and next till we go dark. Assuming I move forward, I have some great Ideas for community involvement. My goal for next year in this order is:
Finding ways to get St. Helens interested in Masonry

Finding ways to generate money for the building and projects

Growing our youth programs

trying

to restart Demolay in St. Helens.

And lastly have fun as a Masonic family
I hope that everyone in Shrine, Eastern Star, York Rite, Daughters of the Nile, and Rainbow will get behind me to grow our groups and have fun.
I have put into works plans for a Relay for Life dinner. The Idea is to help Relay for Life and make some money for the building fund. This is a great way to get the community into the building. We are hoping to start doing some breakfasts and other events soon.
Fraternally,
Brother Michael Hamshar
From the South...
No communications sent
<![if !vml]>
<![endif]>
<![if !vml]>
<![endif]>
Mizpah #30 Order of the Eastern Star
May 8th Stated Meeting
May 29th Stated Meeting
Mizpah #9 Order of Rainbow for Girls
What's Happening for Mizpah #9
First, I would like to thank all of our supportive, sponsoring bodies for helping with the girls popcan fundraiser. The girls raised over $300.00!
I would also like to thank those who have donated monies for the girls Grand Assembly fund. It has helped lower costs by about $40.00 this year, per person.
Service Projects:
The girls recently went to the Shriner's Childrens Hospital in Portland, Oregon. The purpose of this project was to assemble Welcome Bags. These Welcome Bags were filled with toys, stickers, puzzles and a doll and will be given to new patients as they come to the hospital for various procedures. We have been asked to come back in September to participate in this project again. There are collection boxes in the lobby of the St Helens Shrine Hall (one upstairs and one down). Please look at the list of items that the girls will be collecting and donate, if you can.
Meetings:
Meetings are held on the 2nd and 4th Mondays of the month, , at the St Helens Shrine Building. We welcome all of our sponsoring bodies to come to the meetings and help out, when needed.
Upcoming events:
Friday May 11- Last day for monies to be turned in for Grand Assembly. Costs this year, per person, is $135.00.
Sunday May 20- Official Visit in Tillamook, Oregon. . The theme is Mardi Gras and we will be preparing a skit to honor Debbie Noah, Supreme Inspector and Grand Worthy Advisor Elizabeth Anderson. We will also be honoring Amanda Hatch who was in the Grand Choir last year.
And speaking of Grand Assembly...
When: June 21-23 in Pendleton, Oregon. Our girls will be leaving on June 20 and returning on Sunday June 24.
We have one Grand Page- Amanda Hatch
We have 4 girls in the Grand Choir this year and they are: Celestial Campbell, Angel Kemplin, Sadie Mollenhour, Kayla Neimi.
The girls have also been busy with recruitment of new girls this past term and have 3 petitions that have already been turned in and a possibility of a few more coming soon.
Way to go Mizpah #9
Respectfully submitted,
Rebecca

 Hamshar

, Mother Advisor