CONSULTING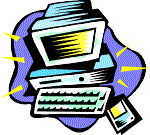 LOOKING FOR A NEW PC OR MAYBE A USED PC AND NOT SURE WHAT TO DO OR WHAT TO GET. GIVE ME A CALL, I WILL LOOK AT THE BEST DEAL FOR YOUR DOLLAR OR FOR YOUR BUDGET.
AT THE STORE AND IN A BIND AND NOT SURE WHAT TO DO, CALL ME I CAN MEET YOU THERE AND WE WILL GET YOU SET UP READY TO GO WITH YOUR NEW PC.
DID YOU COMPUTER AT THE OFFICE DIE AND YOU THINK ITS TOO OLD TO FIX, GIVE ME A CALL AND I WILL HELP YOU!
DO YOU NEED A SPECIAL PC FOR SPECIAL APPLICATIONS, I CAN DO THAT ALSO I CAN CUSTOM BUILD YOUR PC TO YOUR SPECIFICATIONS.