Mid-year 2010-2011
Pierre, sd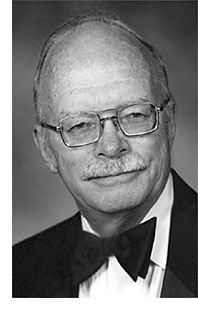 Bro. Thomas Jackson
South Dakota Lodge of Masonic Research Mid Year Meeting January 8, 2011, at
Pierre Masonic Temple.
Lodge of Research Meeting 4:00
Banquet 5:30
Guest speaker Tom Jackson
Brother Tom is a renown speaker and has been named as one of the top 25
Freemasons of the last quarter century. He served as Grand Secretary of the
Grand Lodge of Pennsylvania for 20 years. He served from 1999 until present as
Education Chairman of the Academy of Masonic Knowledge for the Grand Lodge of
Pennsylvania.
He is Executive Secretary of the World Conference of Masonic Grand Lodges: is a
member of the Steering Committee of the Masonic Information Center of North
America. His accomplishments in Masonry as well as in his non-Masonic life are
far too numerous to list here.

Speaker: Most Worshipful Brother Dean Beherns Grand Master of Masons of South
Dakota will also be a speaker.

This will be an evening of education and fraternalism no Brother should miss.
Put the date on your calendar
Information for the Banquet and times will be following as our schedule is
completed.

It will start early and end early. This will make it easy to get to Pierre and
back home from any spot in the state.

If you are not a member of the Lodge of Research you can get that fixed for
$8.00. Please respond so we will be able to plan for the banquet.

Perry Anderson
605-224-2406
dander2406@aol.com



Lodge of Masonic Research Hosted Very good Speakers in 2009.
Greetings, Brethren. The South Dakota Lodge of Masonic Research is having an exciting eventful year.
On January 17, 2009, a very special midyear meeting was held in Pierre. After a short-and social-business meeting, Rex Hutchens, a very well-known Masonic author, scholar, and historian spoke at our dinner. Rex is the author of A Bridge to Light for the Scottish Rite, as well as other works, and has earned virtually all of the titles you can have in Blue Lodge, York Rite and Scottish Rite.
On June 19, 2009, Chris Hodapp, author of Freemasons for Dummies was our speaker for our South Dakota Grand Lodge Session held in Sioux Falls. The Grand Lodge took recess at about 3:00 PM, as soon as election of officers had been completed. The Lodge of Masonic Research held a short business meeting to elect and install officers for the year at hand, then closed Lodge and invited all other interested Masons and their ladies to hear Chris Hodapp speak. Each member of the Lodge of Masonic Research in attendance received a free autographed copy of Freemasons for Dummies. The meeting was well attended and went off without a hitch.
Now this was a great deal! Not only did they all receive a $20.00 book free, signed by the author, but they also heard a very entertaining speaker and well thought of researcher.
If you are not currently a member of the Lodge of Masonic Research, you can join by completing the
application form
and mailing it with your $8.00 dues to MWB Richard Luther.
Be sure and join us for the next mid-year meeting to be held in Rapid City.