The History of Goodwin - Hiram Chapter No. 1 R.A.M.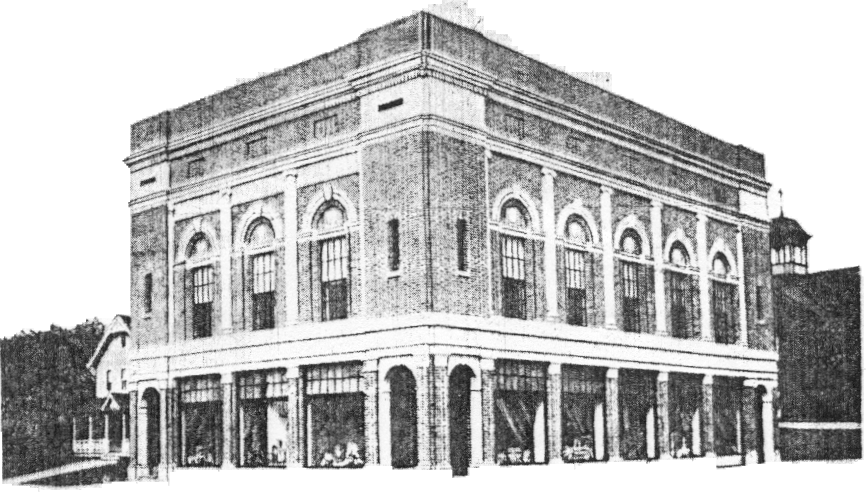 A charter, or warrant, was authorized by Grand Lodge on January 18th, 1866, for a Lodge to be known as Wall Lodge, No 37, F. & A.M. The name came from Wall Township in which Manasquan was then located and was taken to honor Garrett Dorset Wall. He was a distinguished lawyer and jurist, a general, and a U.S. Senator, as well as a Mason - a member of Trenton Lodge No. 5, and Hiram Chapter, No.4 ( now No. 1 ), both of which were located in Trenton at the time of his membership.
In the middle of 1870 the railroad came to Manasquan. It linked Manasquan to Camden and Philadelphia in the South and Long Branch and New York in the North. With it came other Masons and they became members of, or frequent visitors to Wall Lodge, No.73. One of the visitors affiliated with Wall and became its master for three years in 1878,1879 and 1880. The following year he was appointed to be District Deputy Grand Masterfor the then Fourth District, Which included Manasquan and Wall Lodges.. This was Morgan R. Mulford.
Morgan R. Mulford had been exalted to to a Royal Arch Mason in Washington Chapter, No.16, of Elizabeth in 1867. He served this Chapter in various offices before the call of his profession(he was a railroad conductor) took him beyond the cable tow of his Chapter. While he led a very active life in the Masonic activities of Wall Lodge, the call of Capitular Masonry was ever-present, so that in 1882 he began the work that was to be this Chapter -- Goodwin Chapter, No 36, Royal Arch Masons.
He knew that he did not have the required nine in Manasquan, but he brought several members of Wall Lodge to Standard Chapter in Long Branch early in 1882. No sooner did he get five of them exalted than he began the work to form a Chapter in Manasquan. He sought the permission of Standard Chapter to form a Chapter in their jurisdiction and with these Brethren and a few others began his work.
Thus three Chapters and nine Companions formed the base for the foundation of a Chapter: MORGAN R. MULFORD - Washington Chapter SIDNEY FORMAN - Hiram Chapter, No. 1 FRANK R. PHILBRICK - Standard Chapter, no. 35 WILLIAM H. COOPER - Standard Chapter, No. 35 REAN VAN NOTE - Standard Chapter, No. 35 JAMES H. FISHER - Standard Chapter, No. 35 DR. ARCHIBALD HIGGINS - Hiram Chapter, No 1 ALBERT C. FISHER - Standard Chapter, No.35 SAMUEL H. TRUMP - Chapter No. 43, Lancaster, Pennsylvania
The dispensation for the Chapter was granted on July 12, 1882, by the Grand High Priest, Most Excellent Companion I. Layton Register. The Grand Chapter granted a warrant on September 13, 1882. The name of the Chapter was to be Goodwin Chapter -- after William Wallace Goodwin, a prominent New Jersey Freemason and the third Grand High Priest, 1859-1860. A note might be inserted here to state that the Grand Chapter in its authorization stated that the Chapter had the right to change the name should they desire to. In over one hundred years we have not changed our name!
The Constitution of Goodwin Chapter, No 36, took place in a magnificent public ceremony on October 2nd, 1882. The Grand High Priest, Charles L. Chovey, reported:
"October 2nd (1882), assisted by my associate Grand and several Past Grand Officers, I constituted Goodwin Chapter, No. 36, at Manasquan. Most Excellent Companion W. W. Goodwin,P.G.H.P., at my request performed the installation ceremonies, at the conclusion of which, Most Excellent Companion Register, P.G.H.P., in his behalf presented the Chapter with a magnificent Bible and Square and Compasses. The ceremonies were public, and were witnessed by a large company of ladies and gentlemen, who appeared highly pleased and interested."f
Two days later, Wednesday, October 4th, 1882, the first regular Convocation of Goodwin Chapter No. 36, under warrant was held. The "magnificent Square and Compasses" still grace the altar of Goodwin Chapter, engraved with the name and date of the distinguished donor whose name graces this Chapter. The present Bible dates to 1924.
One of the great moments in the life of Goodwin Chapter came in April 1922 when a committee was appointed :"to investigate the proposition of building a new Temple." The committee reported "they were unanimously in favor of proceeding with the building". On October 12th A.D.1923,A.L.5823, at an Emergent Communication of the Grand lodge of New jersey, Most Worshipful Brother Frank C Sayrs, the Grand Master, laid the cornerstone of the Temple of Goodwin Chapter. It still stands in the center of Manasquan with the legend "MASONIC TEMPLE" on its face
At the time it had been said that Goodwin Chapter was the only Royal Arch Chapter to own its own building, and to have a Chapter room designed solely for Royal Arch work. The furniture of that Chapter room was beautifully made and carved in the motif of Egyptian craftsmanship in the time of Moses and the Pharaohs.
The stress of hard time of the depression of the Thirties laid a financial strain on the Chapter. Membership and dues declined and the building was lost through the hardships of those difficult financial years.
TO BE CONTINUED
ed