Message from the Worshipful Master
at the installation ceremony

(Dec 9th 2003)

I am still moved by the impressive celebrated event I have experienced tonight. Obviously, this is the most exciting event I have ever experienced in all my years in Freemasonry.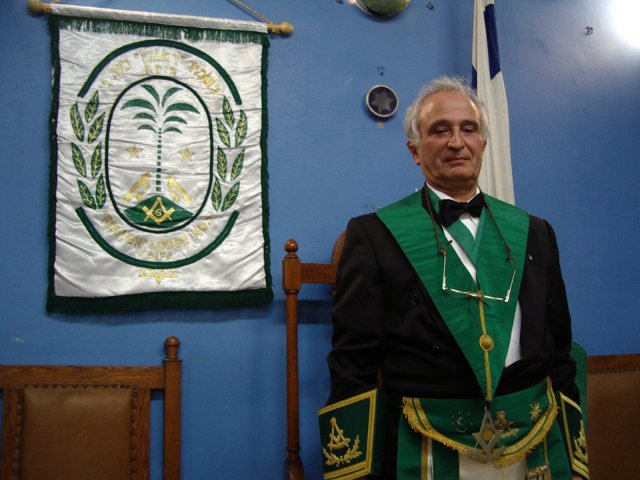 Prior to delivering my message as the 64th installed Master of Reuven Lodge, I would like to remember my late father, Jacob Ezra, who was a brother in this lodge and was initiated on February 11th 1941, two months after my birth. To the best of my knowledge, my father was active in the Lodge, up to the beginning of the 60's and also acted as the Lodge's secretary. Subsequently, every once in a while he used to ask me if I wanted to join Freemasonry, and if I did, then he himself would become active again in the craft. However, all those years my answer was that I am way too busy pursuing my career. First, during my study period at the Hebrew University in Jerusalem, until I graduated with a Ph.D. in Chemistry, and later while I was working in the Center for Industrial Research at the Technion, up to the time when I set up my own plant towards the end of the 70's.
When my father was on his deathbed, consumed by a terminal disease, he turned to me again saying: "I suggest again, that if you have the possibility to do so, you should join Freemasonry, except that this time I won't be able to do it with you". He also added that this would contribute a lot in the realm of thought about life. Naturally, at that time I didn't quite understand what he had meant.
Today, after being initiated and accumulating experience in the Lodge, I understand the essence of the sentence "Once a Freemason, always a Freemason", since this is how my father was, and this is how I feel as his follower.
And now, that I have been installed as the Master of the Lodge, the time has come to perform the duties. I hope and pray that I will do justice to the trust assigned to me by the brethren of my Lodge and I pledge to do my utmost with the appointed office bearers to continue and advance our Lodge, just as had been done by my predecessors.
Of course, as my predecessors, I will aspire to expand the Lodge and run it in the most appropriate and orderly manner, both in the ritual as well as the brotherly-social realm. I will also strive to bring the brothers closer together so that they will get to know each other better, thus increasing brotherly love and harmony.
Furthermore, I will aspire to enhance exposure of Freemasonry, as we already started in the fund-raising event. We will be committed to realize the goals we set to ourselves during that event, in favor of needy children in Haifa, and further pursue these goals. In all my years as a brother in the Lodge, I continuously tried to extend and deepen the understanding of Freemasonry principles. I will attempt to do this, in trainings that began intensively at the home of our very distinguished RW brother Elyakim Hassidof, and have gained great interest, with the purpose of enriching the brethren of the Lodge in perceiving the underlying values of Freemasonry.
I already mentioned, at a different function in the Lodge, that in order to empower our brethren, we must enhance the Masonry cogitation; contemplate in it and in its philosophy, so that our roots will grow stronger and deeper. Hence, we will be able to reduce brethren dropouts.
Therefore, I wish to renew the custom of the Master's message, and in every ritual work I will strive to shed light on a particular Masonic issue , even if only briefly.
Finally, as we chant in the opening ode "May our work, begun in Thee, Ever blest with order be, And may we, when labours cease Part in harmony and peace". And so I will aspire to run the Lodge in brotherly love and peace.