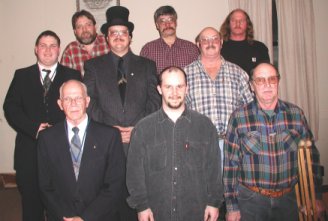 Flat Rock 2003 Officers Front Row L to R - Marion Thompson, Charles Stephens, Keith Tohill second- Bob Mitchell III, Brice Butcher, Warren Stephens third- Dan Dennis, Tim Shimer, Monte Dickerson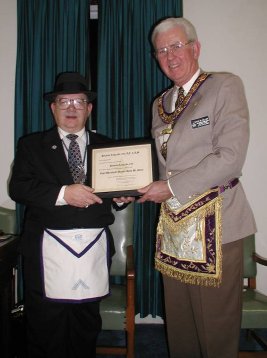 Right Worshipful Deputy Grand Master David Miller made the first official visit to the 4th Southern District on December 2nd. During the visit Palestine Lodge 849 made him an Honorary Member.




Members of Palestine and Flat Rock joined together for a Past Masters night on November 9th. An excellent meal was prepared by Ann Wesley, the wife of Flat Rock member Keith Wesley.




Some of the families of the 4th Southern enjoying themselves at Dixie and Jo Musgraves just outside of Oblong. Thanks to the Musgraves for hosting this event.




On September 18th Bro Seth Murphy received His First Degree through a special dispensation from Grand Master James Durbin. It was His 18th birthday. He was obligated by Worshipful Master Don Murphy, his father. His brother George is also the Senior Warden at Robinson.



Senior Grand Warden David Miller
accepting donations from Lodges of
the 4S District

Right Worshipful Brother Kieth Trimble was honored at the annual Grand Lodge Meeeting held in October to be installed as Grand Steward. Brother Trimble is a Past Master, Past District Deputy and a Grand Lodge Instructer. He is a member of Newton lodge 216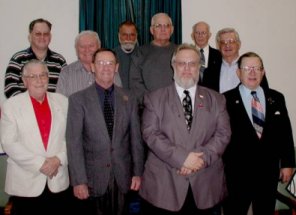 Palestine Lodge 849 - 2003 Officers installed December 8, in an open ceremony
Those in the picture: Bottom L to R John Maddox, Dick Kent, James Delaney and Larry Hildebrand. Back Row: James Snyder, Jerry Ryan, Larry Miller, Paul Rosenburg, Marion Thompson and Eugene Reinbold




Brother Eugene Reinbold presented a "Mason of the year" award by Palestine Master Larry Hildebrand.




The fire was hot and the hot dogs were good but Dixie I think yours is burning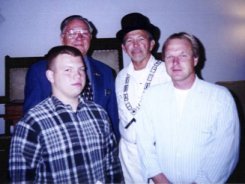 The Murphy Family with District Deputy Ralph Portlock